Upcoming Concerts in January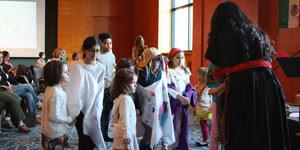 Saturday, January 13, 2018, 11:00am
Schubert Club Museum
Sensory-Friendly Family Concerts are inclusive, interactive concerts for families. These free events allow audience members to enjoy an enriching concert experience in a sensory-friendly format.
Listen to the wonderful sound of the Son Huasteco and the Guapango.  Discover and interact with fascinating Mexican folk instruments and learn dance steps to this rhythmically vibrant music.
 Reserve your free tickets here
Thursday, January 18, 2018, 6pm & 8:30pm, TPT Street Space
A well-known name locally and nationally, Libby Larsen was recently recognized as the 2016 McKnight Distinguished Artist. Based out of Minneapolis, she is one of this nation's leading composers. This one-of-a-kind Schubert Club Mix concert will feature pieces which Libby has written as companion music to comic strip cartoons and other visual media.. The program includes "The Fantom of the Fair" which illustrates a story of the superhero in action at the World's Fair, "The Peculiar Case of Dr. H.H. Holmes" for baritone & prepared piano with projected drawings, and "Love Tamer" with reconstructed comic strip illustrations. It also features a new piece with lighting design "O Magnum Mysterium" for former King's Singers member Paul Phoenix.
[button color="accent-color" hover_text_color_override="#fff" size="large" url="schubert.org/events" text="Browse all upcoming events" color_override=""]